Partner Les Assembleurs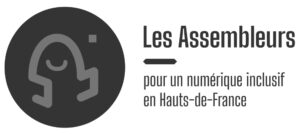 "Les Assembleurs" is an association whose mission is to accompany, train and animate a collective dynamic for an inclusive and creative digital environment in "Hauts-de-France" region. They participate in the dynamics of inclusive digital Hubs, whose role is to structure the ecosystems of digital mediation in the territories.
In 2022, les Assembleurs will provide training for caregivers and mediators, meetings between digital inclusion players, support for local authorities in the deployment of 300,000 Digital Passes, and sector-based projects in education, VSEs and the fight against poverty. The project has been developed since the end of 2019 within the POP collective, its activities are currently carried out by an association that is intended to evolve into a SCIC during 2022.
The team has more than 10 employees and plan to double the number of staff by the end of 2023. The Assemblers organized a local NEC in 2021 and are co-constructing the NEC project in this 2022 edition.